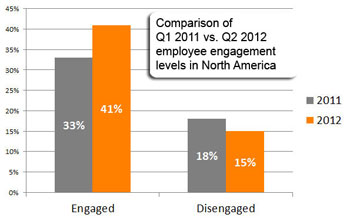 With the grim news about the recent economic downturn, it is always uplifting to get some good news—trust is rising in the American workplace.
According to BlessingWhite, a Princeton N.J. consulting firm, both employee engagement and trust in senior management has risen in 2012. Forty-one percent of North American employees expressed engagement, compared to 33 percent in 2011.
The degree of disconnection has also decreased; the amount of disengaged workers dropped from 18 to 15 percent.
However, this improved optimism has not yet reached Europe; engagement levels overseas have remained constant at 30 percent. The rate of disengagement rose in Europe by a bit, to 19 percent.
This optimism is not an enormous surprise; employers are beginning to loosen the purse strings. Many workers are starting to see increased salaries and in more cases, raises are back on the table. Job openings, hiring and layoffs are dropping to prerecession levels. Corporations are becoming less conservative, allowing for human resources to be a greater asset.
This is an election year; every four years cause tension in the marketplace. However, if this trend continues, by New Year, the corporate climate will become even more bullish. Less than half of the workforce (48 percent) thinks there is room for career development with their current company. That represents a slight improvement from the 2011 survey; more evidence that employee trust and commitment is on the rise.
On the other hand, only two-thirds of engaged employees say career opportunities are available where they work—a troubling trend, since a career track is the main reason people change employers.
Trust in senior executives has always been a problem for human resources management, but this trend is starting to change. Fifty-seven percent of American workers claim to have faith in corporate leaders, up about 5 percent for the previous year. Employees trust immediate supervisors even more; that figure rose slightly to 74 percent.
As an employee, a feeling of trust in management and co-workers is essential; the same is true for senior management—trust must be earned.
Highlights of the Blessing White report can be found here.
Image: BlessingWhite